​

Poshmark has changed over the years incorporating many new features such as different ways for retailers to adjust pricing. Along with this is the inclusion of having many more closets for shoppers to shop their new purchases from. Lowballing is the act of buyers offering a price better known as "low ball offers" because they are deliberately way lower than the retail price set by the sellers. These are typically deemed offensive as oftentimes, they will lead to a rejection of an offer or may discontinue negotiations!

​

New Poshers are highly susceptible to being victims of lowballers because they have not yet established what mechanisms to put into place to discourage lowballers. This Poshmark Offer Chart is a helpful guide that many Poshers frequently use when making offers to likers to avoid lowball offers.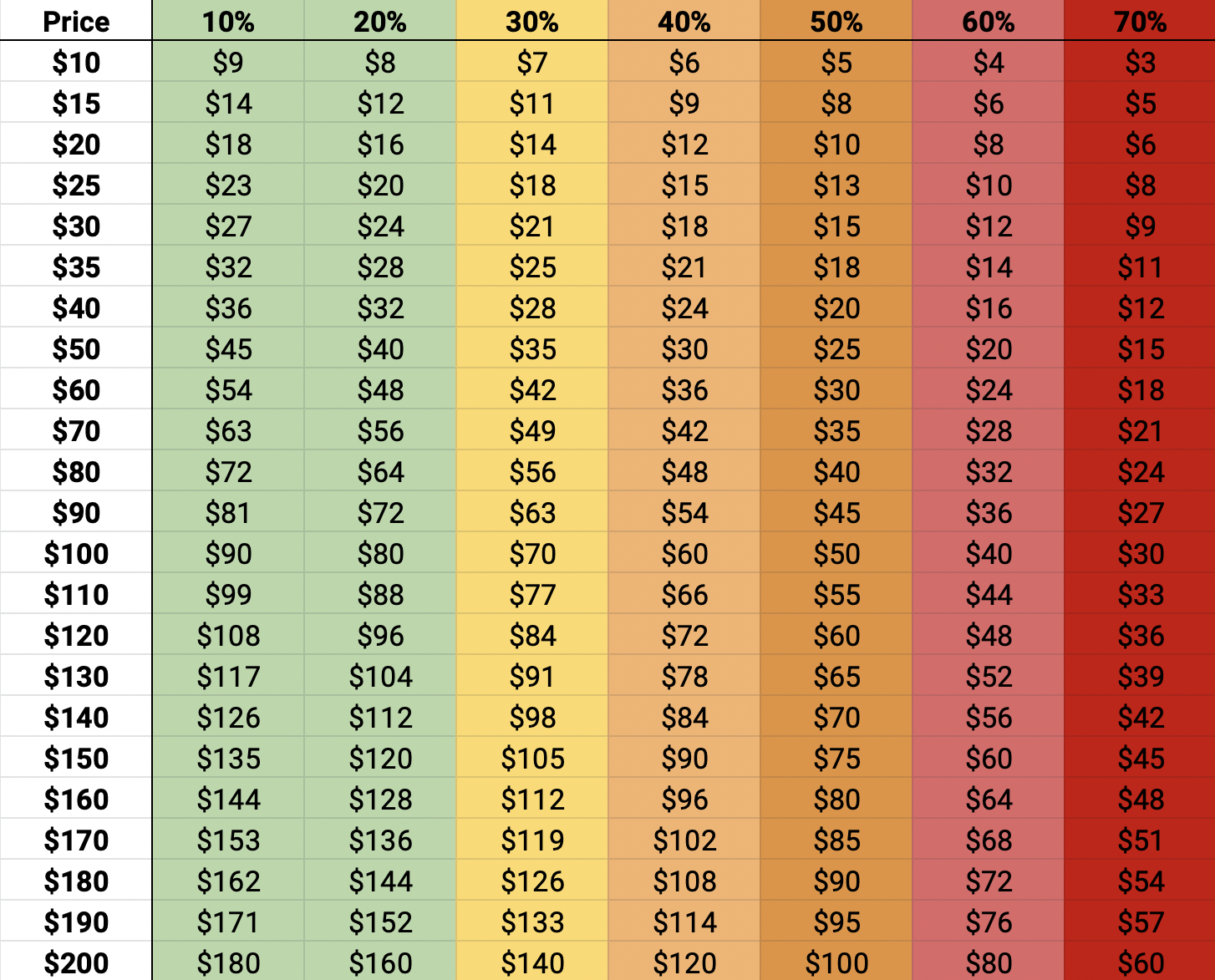 What is a reasonable offer?
​

The reality is that most resellers won't admit to it that many of them have accepted a low ball offer at one time or another. On the other hand, lowballers have nothing to lose by submitting their ridiculously low offer! A tactful way to handle this is to utilize a price chart to determine a reasonable price offer that is below the reseller's asking price but not low enough to be considered a low ball offer.

​
Why should you send offers to likers?
In your Poshmark closet once an item new listing or not is liked by a potential buyer you can use the offer button to then send offers to them. And you should be sending offers to your likers because it gives them the initiative to increase their chances of purchasing an item that you can further negotiate to a bundle checkout. Doing this also gives a sense of urgency for potential buyers to accept offers from sellers since they are only active for 24 hours.

​

Sending them an offer especially while the item is still fresh on their minds gives them time to reconsider your item price at their preferred discounted price that still leaves you with a profit. This back and forth between seller and buyer is important in increasing sale transactions and maintaining the standard of full-service customer support that will work to improve your credibility to potential buyers.

And this negotiation also gives sellers the opportunity to sweeten the deal for potential buyers by offering them maximum savings with the added bonus of expedited fast delivery, day shipping, free shipping, or as an act of excellent customer service to include a free gift with their purchase. The best advice to improve your business is by gaining feedback from customers such as finding out what listing items are in demand that they are willing to pay extra cha-ching for? Is it brand new items or brand name items like jewelry and accessories from Kate Spade or Michael Kors? And also reinforcing their need for buyer protection and having a clear refund policy in place. Doing this helps you improve your category with the high selling items and labels.

​
What is a good price to send an offer to a liker?
When making a Poshmark offer it is at a discounted price for a limited time. The item price should be at the least 10% of the retail price (you can use the calculator tool to generate easy discount calculations) and offer a shipping discount. Since offers can be sent once every 24 hours. By default, Poshmark has 3 quick discount options that do not require 10%, 20%, and 30%, and of course, you can send custom offers as well.

A good tip to remember if you get a lowball offer is to not take it personally, and always come back with a counteroffer.

​
Be sure that it is profitable after Poshmark fees, shipping costs, and offer discount
Always remember that whatever offer you give should be profitable when you deduct posh fees, shipping costs, and the other offer discounts. As tempting as it is to please potential customers, as a seller you should remember that profitability is the goal. So be cautious of just how much of a price reduction customers will get when you offer new discount codes and apply the latest coupons to the checkout price.

​
Be sure it's worth your time
The key to happy Poshing is striking a deal with potential customers, however, not every potential customer is worth your time especially if they are just in negotiations to lowball you. If you've exhausted every reasonable deal that you can make using the Poshmark offer chart and they aren't interested to budge on a low ball offer then know when it's time to cut the conversation and give your attention elsewhere.

​
If you are only making a few dollars or almost breaking even, it may be worth relisting
Every seller experiences a dip in sales every now and again. A good strategy that you can do to get your listings noticed is to relist. Relisting helps you in ranking higher on search results because it keeps your closet new and visible on recent recommendations. And it also helps buyers know that they are buying from an active closet and reassures them that the seller is credible.
​
OneShop your Items
There is no short supply of reselling platforms such as Poshmark and eBay. Both are easy to navigate, have free authentication and are highly reliable websites. So if you want to boost your sales and increase your exposure consider cross-listing. It is about taking your available listings and relisting them onto another platform. The important thing to remember when cross-listing is that although it can help make a killing in revenue it is also demanding and time-consuming. Selling on multiple platforms is difficult and by doing so you run the risk of losing potential customers if you fail to respond to inquiries in a timely fashion.

​
Automate your offers to likers, set a minimum revenue target that factors in fees and discount costs, and relists old listings for you
Every time you expand your business reach you subsequently take on more work and the strategy used by most people is to automate their offers to their likers. As well as setting a minimum target with revenue that already has the fees Poshmark takes reduced including the discount costs so you don't end up manually computing everything.

​As you grow and expand your business you take on more responsibilities and tasks that are more in demand for your attention which leaves little chance to do everything manually. Instead of burning out by doing things manually, you can just spend 15 minutes a day on Poshmark by using an automation bot called SuperPosher to act as your own sales expert 24/7.​

With OneShop, you gain the advantage to run your Poshmark business on autopilot with daily share and works even if your browser, laptop, or phone is turned off. Automate your sharing, offers, following, and relisting with OneShop's marketing automation service! Sign up for enjoy a 14-day trial with active support from our team and a growing community.